Sometimes, you have to explore the coldest lands to discover the most ardent sounds! Thanks to their clever blend of soul and funk, The Brooks blur geographic markers…
Named "best kept secret of Canadian funk" by the Quebecois newspaper La Presse, The Brooks are a band of accomplished musicians, well-known in the soul/funk scene across the Atlantic.
Expert instrumentalists led by Alexandre Lapointe create a dazzling combo with frontman Alan Prater— an incredibly energetic showman who has worked alongside some of the biggest names in the music industry. This passionate and experienced band fan the sacred fire every time they perform!
Thanks to a solid realization, their musical message comes across beautifully. The Brooks go beyond mere interpretation and style exercises: they are a powerful groove machine and a driving force in their sector.
50 years of African American music are condensed in the band's aesthetic. In their live shows and in their records, you can hear James Brown's meticulousness, D'Angelo's delightfulness, Fela Kuti's radiance, Herbie Hancock's intergenerational openness, and J. Dilla's innovative spirit.
These heroes of music didn't let rules and trends dictate their messages, and neither do The Brooks. Just like these history makers, they built their reputation with sweat and rigor, outside of conventional channels.
The Brooks are incredibly hard workers united in a project where pleasure and complete artistic freedom are the only key words. After 8 years of existence, with an EP and two albums, they have already won many awards and nominations (GAMIQ, Independent Music Awards, ADISQ…) and built a solid reputation in the Quebec indie world.
"These eight musicians are an unfailing combination of pleasure and precision. (…) Together, their strike force is undeniable. And as each one of them has the chance to shine on their own, the "wow!" effect is magnified. These guys seem to be having the time of their lives. And when you see the fans on the ground floor jumping and dancing, their pleasure is contagious."
– Geneviève Bouchard | Le Soleil
The band created itself, spontaneously, with no strategy, and is the result of encounters, trips and temptations. The Brooks are above all an outlet, and far from being "studio musicians", its members are fully involved in their role as creators. These "éminences grises" emerge from the shadows to spread a work of art that is 100% their own.
The Brooks were born behind the walls of the Motown Museum thanks to bassist Alexandre Lapointe, who has been working for over twenty years alongside famous artists such as Joel Campbell (musical director for Tina Turner and Janet Jackson). The band was first invited by the legendary Jazz bar Diese Onze and as a result of this first collaboration, the Soul Therapy Nights were created.
The first iteration of these evenings was met with a success that has lasted for three years. Indeed, the Soul Therapy Nights became an unmissable meeting for the artistic community, and more than that, a real pool of artistic talent. This experience has allowed the group's core to grow and eventually flourish as a close-knit band.
Who are The Brooks? First, there's the icon, Alan Prater! This Florida-born musician can boast that he shared the stage with the Jacksons! Thanks to his many trips and experiences, he became a key member of Montreal jazz. He is the band's biggest asset: if The Brooks were a sports team, Alan Prater would be captain.
Then, at the drums: Maxime Bellavance, one half of the Beat Market duo, whose "dancy and retro futurist" groove can be heard in several major and underground projects in Canada.
Philippe Look aces guitar and vocals. His experience as a session musician working with famous bands for 20 years allowed him to take part in different projects: rock, downtempo, trip hop, electro… As one of the founding members of The Brooks, he also wrote many of the band's songs.
Keyboardist Daniel Thouin is an integral part of the Montreal jazz scene. He is both an accomplished acoustic piano player and synthesizer player, well versed in writing as well as in improvising, in organic sounds as well as in the latest technologies. Thouin possesses a double vision, which allows him to both exalt and lead productions.
Composer Sébastien Grenier wows us with his saxophone. Thanks to his theoretical knowledge and his 20 years of experience, acquired through continuous training all around the world, he is a true guiding force.
French trumpetist Hichem Khalfa begun learning the instrument at 7 years old. He attended a musical conservatory before going to the Haute École de Musique and finally pursuing his studies at McGill University. He won prizes at Rimouski International Jazz Festival and received the François Marcaurelle prize at Montreal Off Festival. His successful jazz projects allowed him to work with famous musicians like Blitz the Ambassador, Nomadic Massive, Rhonda Ross and Kalmunity.
Philippe Beaudin can be considered an apostle of Afro-Latin percussions, which he teaches and practices with great passion. Thanks to his participation in several projects, you can discover his talent both on stage and onscreen.
The Brooks' philosophy is based on art in its rawest form, on perfectionism in musical practice. The choices they make and the directions they take are motivated mostly by instinctive feelings.
This is how The Brooks recently crossed the path of Underdog Records during a trip in France. It was love at first sight for the two groups who share a passion for soul. Their chemistry allows them to be completely free in their creative process and natural as ever in their conception-creation-communication approach.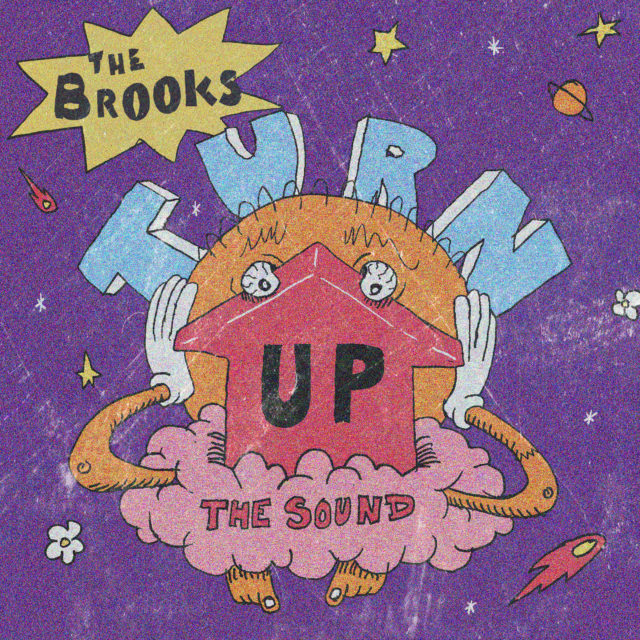 Turn Up The sound
Paru le 8 May 2020
The Brooks new single Turn Up The Sound
These eight musicians are an unfailing combination of pleasure and precision. (…) Together, their strike force is undeniable. And as each one of them has the chance to shine on their own, the "wow!" effect is magnified. These guys seem to be having the time of their lives. And when you see the fans on the ground floor jumping and dancing, their pleasure is contagious."
– Geneviève Bouchard | Le Soleil
Turn Up The Sound (Live session)